When Delron received his first invitation to minister in Sri Lanka, he had not even heard of the country.  It was only the picture of the country on the postage stamp that gave him a clue that it was the island that he knew of as Ceylon.  Now, four decades and more than half a dozen visits later, he and Peggy had the privilege of hosting a team of students from Charis Bible College where they teach on a mission to the resplendent nation as it was called during the colonial days.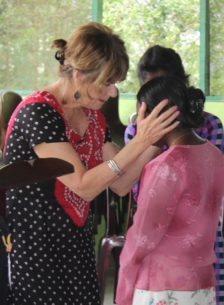 The mission involved a wide variety of ministry in churches, a Bible college, humanitarian projects, open-air village venues, and even a coffee factory.  In the churches, we had the privilege of preaching in the adult services and doing skits, games, and object lessons in the children's meetings.  Of course, all the services concluded with prayer times in which many people accepted Christ, healing, and the baptism in the Holy Spirit.  At the Bible college, the students taught in the classes and shared in small groups.  One of the recurring topics that the Sri Lankan students brought up was the baptism in the Holy Spirit – a discussion that our students were eager to engage in.  The result was that a large number of the students received the infilling of the Spirit.  The president of the school told us later that many of his students cried when our bus pulled out of the parking lot because their lives had been so powerfully impacted during our visit.  While at the campus, Delron broke away from the group for a day of training for the Every Home for Christ workers in the area.  About twenty-five pastors and evangelists came to be encouraged in their work and to be instructed in EHC's discipleship program that Delron assists with.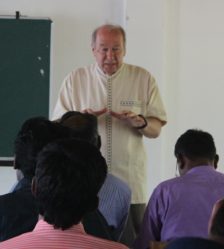 Highlights of the week of ministry were the two outreaches to the non-Christian communities on the plantations where the world-famous Ceylon tea is grown.  Even though almost one hundred percent of the tea workers are Hindu, our team was welcomed to do street dramas, share their testimonies, and pray for the people – even in the plaza directly adjacent to the temple!  Each outreach ended with such openness from the people that it was difficult to leave the villages as they kept asking for prayer and even inviting the students into their homes to pray for sick family members who could not come out to the village courtyard for the meetings.