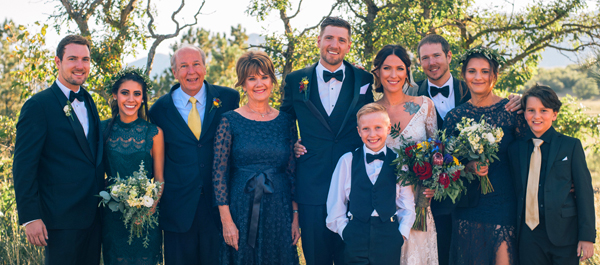 2016 was another landmark year for the Shirley family as we welcomed in two new members – Megan and Leo, Christopher's new bride and her son. The outdoor mid-September wedding was threatened up to the very last day with rainy weather, but we woke up on the wedding day to a perfectly beautiful, warm, sunny day. After the lovely wedding and a delicious sunset reception, the night was crowned with a full moon to spotlight the loving newlyweds.
Of course, the rest of the year was also very active for the whole family. Delron was in Africa on two different mission trips – Uganda and Nigeria. Peggy trotted literally all over the globe on her mission assignments – Dominican Republic, England, the Philippines, and Mexico. In addition, they traveled together on ministry trips to Belize and to the Turks and Cacos Islands and on trips within the US to minster in California and Pennsylvania. One other highlight was an all-family vacation to a lovely beach resort in Playa del Carmen, Mexico over spring break.
One disappointment that we encountered this year was that Delron fell ill just prior to his scheduled trip to Nepal to dedicate the churches and homes that Teach All Nations had rebuilt after a massive earthquake devastated the nation in April 2015. Although he was not able to personally be there, TAN was able to send Fred Taylor as a substitute to officiate at all the ceremonies. We received full reports and joyful "thank you's" from all the pastors and congregations that we were able to help rebuild their home, lives, and futures after the tragedy.
This holiday season, we wish you the peace & goodwill that Jesus brought on the first Christmas.
---